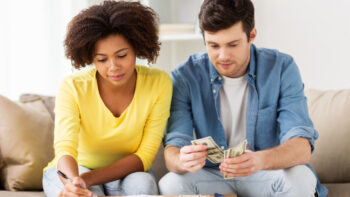 Temporary Assistance for Needy Families (TANF) is a national program that provides financial assistance to struggling households.
Families that need help affording basic necessities may be eligible to receive support through this program.
No matter where families live in the United States, there is a TANF program they can apply to receive benefits through. 
One of TANF's main purposes is to help families who need assistance caring for their children. This program also aims to promote self-sufficiency in households throughout the country.
Therefore, families who need financial assistance should learn how to apply for benefits through this program.
What is TANF?
TANF is a program that the federal government finances. However, the federal government gives TANF funds to state governments, which then manage the program.
This means that state governments are responsible for assessing individuals' applications to determine who can enroll.
Before TANF, the national welfare program that provided benefits to struggling families was the Aid to Families with Dependent Children (AFDC) program. This program was established through the Social Security Act of 1935. However, TANF replaced this program in 1996.
Now, qualified families who need financial assistance to help them afford basic necessities can receive funds through TANF.
What TANF benefits are available to enrollees?
TANF benefits are awarded to qualified applicants in the form of monetary funds. If you qualify, you can use your benefits to afford:
Food and other grocery items you need to prepare meals for your family. 
Rent so you and your children have a place to live. 
Transportation to help you get to and from work each day. 
Furniture and housing supplies to keep your home functional and comfortable. 
Medical supplies you need to stay healthy. 
There may be restrictions regarding where you can use your benefits. States usually issue a program card, which is how you can access your funds.
This often takes place through electronic benefit transfer (EBT), which means recipients' benefits are automatically deposited into their accounts on the appropriate day.
Since these are not traditional debit or credit cards, some stores may not be equipped to receive payment this way.
Usually, larger supermarkets and stores have the technology to accept EBT card payments. However, smaller independent facilities may not.
To avoid complications when you check out, make sure you confirm which stores accept EBT cards before you shop there. Otherwise, you may not be able to pay for your purchase at the end of your trip.
Items You Cannot Use Your TANF Benefits to Purchase
If you qualify to receive TANF, there are many products and services you can use your benefits to obtain. However, there are generally certain items you cannot use your TANF program funds to purchase.
These typically include: 
Alcohol and tobacco.
Lottery tickets and adult entertainment.
Ammunition.
Learn About TANF Program Requirements
To a certain degree, individual states are responsible for establishing their own eligibility requirements. However, there are certain general requirements all applicants need to meet in order to receive benefits. Usually, these relate to the following:
Income – Only low-earning families are eligible to receive TANF benefits. This is because this program only provides support to applicants who demonstrate extreme financial need. Additionally, TANF benefits are usually only issued to households that have less than a certain amount of funds in assets. 
Work – Adults receiving TANF benefits may need to meet the program's work requirements. Generally, this means that he or she is involved in professional training or works for a minimum of 30 hours each week. 
Social Security Numbers (SSNs) – All enrollees need to have verifiable SSNs. If candidates cannot provide their identification using this number, they cannot receive TANF. 
Attendance at school – Any children in a household that receives SNAP benefits need to be regularly attending school. If students miss large amounts of class, this could prohibit their families from receiving TANF support. 
Individual states may have additional TANF eligibility requirements families need to meet in order to enroll.
To make sure you qualify for benefits in your state, make sure you contact local program officials. The representatives you speak with can let you know of any additional qualifications you need to be aware of before you apply.
How to Apply for TANF
If you believe you are eligible to receive TANF benefits, it is important that you learn how to apply for this program. The longer you wait to submit your application, the more time it can take until you begin receiving the assistance you need. 
There are several different ways you can apply for this assistance program. Generally, you can submit your application:
Online.
By mail.
By fax.
In person at a county office.
Different states may have specific requirements about how you can apply, so be sure to speak with your local TANF office to determine which method you can use.
Furthermore, be ready to submit the appropriate documents along with your application to prove you qualify for support. For example, you need to provide proof of:
Income. Since TANF is only available to low-income individuals, applicants need to prove how much they earn before they can enroll in this program. Acceptable proof of income includes recent paychecks or tax documents. If applicable, individuals can also submit any income they receive through retirement benefits, disability insurance or workers compensation.
Residency. Applicants need to prove they live in the state where they are applying for benefits. To satisfy this requirement, they can bring their driver's licenses, proofs of rent or mortgage and bills.
SSN. In order to prove that they have valid SSNs, applicants can bring their Social Security cards, tax documents or pay information where their SSNs are printed.
Family relationship. TANF candidates need to prove they are related to the children who live with them. To do this, they need to bring birth certificates or court records that verify how they are related to each of their children.
Cohabitating. Family members must verify that they live with one another. Generally, they can fulfill this requirement by providing at least two statements from individuals they are not related to. Alternatively, families can submit school records to verify who lives in their households.