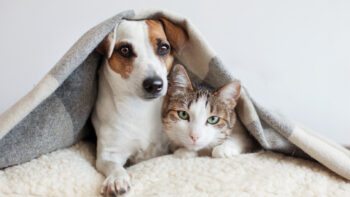 Owning a pet is a serious commitment and it can turn into a steep expense as well. You may only consider the initial cost of purchasing or adopting a pet when determining whether you can afford to become a pet owner. While the initial cost of adoption or purchase is an important factor, there are several other expenses you incur when you are bringing a pet into your home for the first time. This can range from a few hundred dollars to a few thousand depending upon the amount of supplies you need to care for your new animal.
The cost of pet ownership does not decrease over time, so you must be committed to this added expense long-term before you decide to bring a pet into your life. Between visits to the vet and food each month, your pet can be an expensive privilege. Take these expenses into consideration before you decide to own a pet.
One-Time Expenses Incurred When Purchasing a Pet
Whether you decide to adopt a pet from a shelter or you decide to purchase a pet from a store, there are a few expenses you must pay right away before taking your pet home. Pet adoption fees may be waived at certain shelters, but often they can set you back a few hundred dollars for your new pet. When you purchase a pet from a pet store or from a breeder, this cost can increase to several thousand dollars depending on the type of animal you have chosen to buy. 
Younger pets frequently require more vet visits early on to get their necessary shots and vaccinations, which can cost several hundred dollars. Before you make this purchase, be sure to save up the money needed to not only pay for your pet but to also pay for all the supplies you need to begin taking care of your pet right away. In addition to the adoption or purchase fee, other one-time expenses incurred when purchasing a pet include:
Food and water bowls.

Spaying or neutering fees.

Pet toys and treats.

A collar and leash for a new dog.

A scratching post for a new cat.

A litter box for a new cat.

Puppy training pads for a new dog.

A carrying crate for a new dog or cat.

A crate for a new dog.

Dog obedience lessons.
These fees typically cost anywhere between a few dollars for a new food bowl to a few hundred dollars for obedience lessons. If you are unable to afford the medical care or supplies necessary for your animal the day you take them home, it is wise to refrain from buying a pet until you can cover all the necessary costs.  
Recurring Pet Expenses
Once you have saved enough to afford a pet and its necessary supplies, you are still going to face several recurring expenses during the duration of your pet's life. You must purchase food for your animal monthly. If you have a cat, you must purchase litter and liners as well. 
Related Article: Guide to Getting a Line of Credit
Buying toys for your cat or dog to play with is essential, as this helps it burn energy and stay happy throughout his or her lifetime. You do not need to buy toys as frequently as you need to buy food and cat litter, but you may need to budget a few dollars each month to put toward refreshing your cat or dog's toy supply, especially if you own a particularly destructive pet.
If your animal becomes sick or injured, this can incur expenses in the thousands depending upon the severity of the injury or illness. While you do not need to actively worry about large medical expenses for your animal, it may be beneficial to have money set aside in case of emergency. You can purchase pet health insurance to help cover the cost of any medicine or procedures your animal may need when it is unwell, but this additionally costs a few hundred dollars. 
You may want to invest the money into health insurance as your pet gets older since medical risks are more likely for elderly pets. Pet insurance may initially seem expensive, but it may ultimately save you thousands of dollars.
Many cities and towns require you to receive a dog license for your new pet to ensure your dog does not pose a threat to the public. The cost for a dog license varies depending on the state, so you must speak with a representative from your town or city hall to determine what you need to pay to acquire this license. If you rent property, your landlord may ask you to pay an additional fee to have a pet. 
How to Budget and Afford Pet Expenses 
When you make the decision to purchase a pet after considering the cost associated with this choice, you can create a budget allowing you to save and spend what you need for your pet. Calculate the average cost of the pet's food, medical bills and supplies each month and incorporate this expense into your existing budget. In doing so, you are ensuring you make enough money each month to cover your own expenses and to additionally cover the expenses incurred by your pet. 
For those who want to err on the side of caution, you can create a separate account or fund to deposit money into to help cover the potential cost of emergency pet services. If your animal suddenly develops a serious illness or becomes injured, you can draw from this account without having to worry about how it is going to affect your overall savings or using one of your credit cards.
It may prove beneficial to create a pet budget before you decide to purchase a pet as well, as this can help put into perspective whether you can really afford the cost associated with owning a pet. If you want to buy a pet, consider areas in your existing budget where you may be overspending and scale back in these areas. In doing so, you are providing yourself with the opportunity to put this money toward the cost of a pet adoption fee and pet supplies you need when you purchase your new pet. 
Related Article: Four Ways to Get Cheap Internet and Cable